Darwin Ramos did not do anything extraordinary. It is in the ordinariness of his life that he lived the simplest way of sanctity. He knew the poverty of the streets of Manila and the sufferings brought about by a degenerative illness. And yet his life was totally filled by his closeness to Christ. Young, poor and sick, Darwin lived a life of Joy.
His spiritual legacy is contained in two short yet very meaningful sentences. When he knew that death was imminent, Darwin wrote: "A huge thank you. I am very happy." It was not merely a Thank You said as a polite remark but a profound thanksgiving. This was also the case when, a few hours before his death, he wrote that he was very happy. His life was so united with Christ that he reached the apex of Joy. He found his Joy in Christ.
Darwin is today a master of Joy for the youth, the poor and the sick. Although he did not accomplish anything extraordinary, for us, he is an extraordinary example.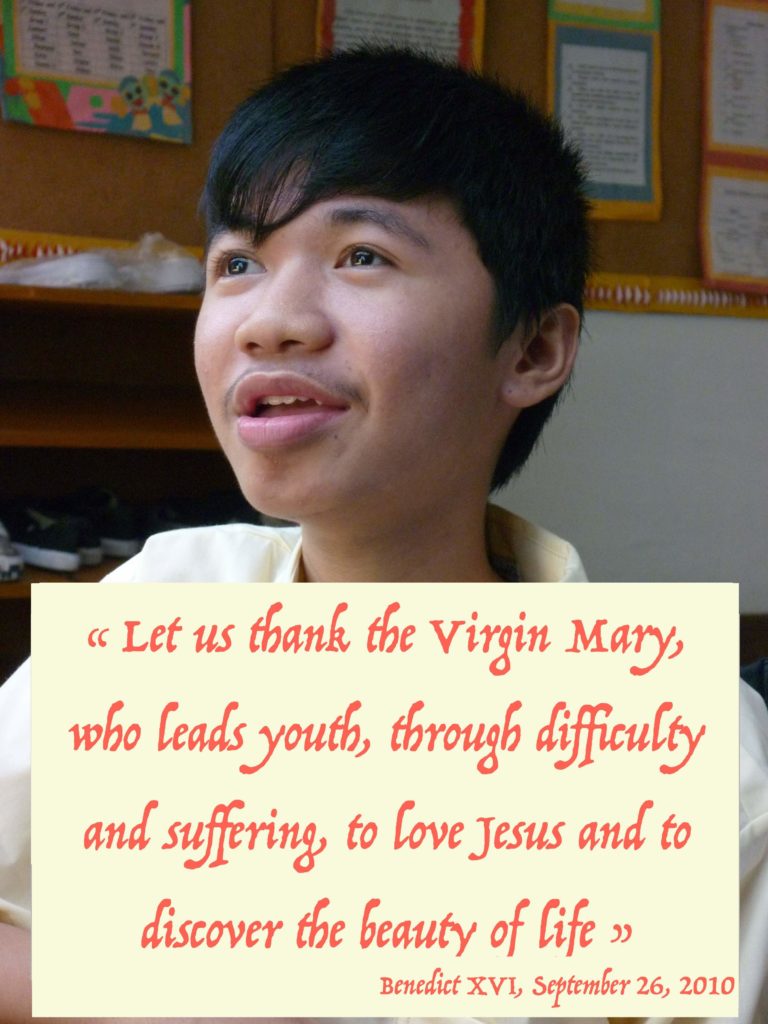 A master of Joy for the youth
Darwin died young. He was only 17 years old. But every day of his life was lived fully. His short life bore much fruit. He had childlike generosity. He was begging for his family at a very young age. He knew that his father took a very big portion of the alms given to him to satisfy his vice (alcohol), but Darwin never complained. Even if he was ashamed to beg, Darwin agreed to do so because he knew that the money would be used to feed his siblings. That gave him Joy.
As Darwin grew older, he learned the value of friendship. The children at the Tulay ng Kabataan Foundation were his friends and he considered his housemates as his brothers, just like in a family. Their friendship was anchored on loyalty and charity, unlike virtual friendship in social media like Facebook or Instagram which is very popular in the Philippines. His friends still attest to the way that Darwin influenced and edified them. He was always attentive to each of them and knew how to comfort them when they needed help.
Children normally say "When I grow up, I will be…" followed by the profession which will make them happy. But happiness does not lie in the future. Joy is not a dream. Darwin did not postpone Joy in his life. He lived the present moment every day. He lived extreme Joy in the ordinary events.
The youth of the world are capable of having beautiful and great lives. Darwin was an extraordinary example: he lived the virtue of charity: love of God for man.
A master of Joy for the poor
The Ramos family was very poor. When Darwin was born, his family lived in the slums of Manila. But because of dire poverty, they had to live on the streets. That is how Darwin became a street child, a trash picker, scavenging for food, reselling wood, metal or hard plastic bought by junk shops. Then his father forced him to beg at the Libertad station. He was hungry most of the time. But he understood that "Not by bread alone that a man lives, but by every word that comes forth from the mouth of God"(Mt 4:4). By experiencing hunger and want, Darwin learned to be filled with God. Those who do not lack anything end up by forgetting God. They have the impression that they are self-sufficient. But those who have nothing need everything.
They always have a place for God in their heart. Darwin was consumed by God so that he filled every part of his body with God.
Misery dehumanizes. But sometimes, poverty allows God to take his proper place in one's life because poverty does not allow hindrances in approaching God.
A master of Joy for the sick
When Darwin was six years old, his mother noticed that he would often fall. These were the early signs of the illness which would later be diagnosed as myopathy. Darwin was afflicted by the degenerative illness which weakens the muscles and confines its victims to a wheelchair. Worse, patients with myopathy have frequent bouts of asphyxia. Myopathy causes much suffering but Darwin remained joyful.
It would be simpler to say that Darwin remained joyful despite his illness and despite his sufferings. But this was not the case. In truth, it was not despite his illness, but in and through his illness that Darwin found Joy. It was in his sufferings that he encountered Christ. Darwin made it a habit to offer his sufferings. He said: "I think Jesus wants me to hold on until the end, just like he did" Darwin lived in such a union with Christ that allowed him to walk in Christ's footsteps on His way to the Cross and to carry Christ's Cross on his shoulders like Simon of Cyrene. Darwin lived the mysterious words of the New Testament: "Rejoice in so far as you are partakers of the sufferings of Christ, that you may also rejoice with the exultation in the revelation of his glory." (1P 4:13)
Darwin never spoke of his illness but always of his mission. He considered his illness as a mission given by Christ to witness to the Joy found in trials and sufferings.
Darwin was so configured to sufferings such that the last week of his life was in the image of Christ's own Passion. His "Holy Week" began on a Sunday when he was hospitalized. It is like Palm Sunday; the name Ramos comes from the Spanish word "ramas" which means palms. Darwin's Good Friday was punctuated by a big smile which revealed the Joy of victory. His Holy Saturday was marked by silence, like that of the Virgin Mary who was waiting. Darwin died on a Sunday morning, at sunrise, at the time when Christ, the Sun of Justice, rose from the dead on Easter morning.
The sick in the world are able to live the Joy of Christ and hope for life after death. Darwin is an extraordinary example of this. He lived the virtue of hope. He witnessed that everything leads to God.
Darwin is a master of Joy. But this is not any kind of joy. It is not the ephemeral joy of spending time with friends or that of receiving a gift. This is a more profound joy. It is not even the joy of giving, which is greater than receiving. It is more than that. It is spiritual Joy, that which is most profound and true because it is the Joy of Christ himself. The reason why Darwin is a master of Joy is because his Joy is none other than that of Christ. Darwin's life is like Laetare Sunday during Lent, a moment of Joy in times of trial.